Series K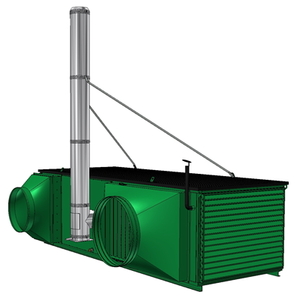 Compact blower consisting of: main blower (heating and support air) and reserve blower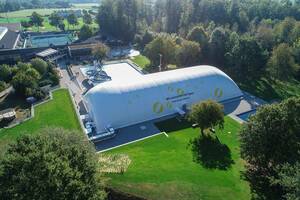 Air domes are used for national and international events, sports facilities and industrial purposes. The technical equipment is adapted individually to each project and customers' requirements.

Compact blowing unit consisting of:
- Main blower (heating and supporting air)
- Stand-by engine
NOLTING – Inflation Technique for Air Domes
Inflation unit as warm air heater for the heating media oil / gas / electricity / warm water and steam.
Inflation unit as cooling units for the cooling media cold water and refrigerating agent
Inflation unit as cold air blower, driven by electric or diesel engine (stand-by unit).
Also available in engine room cubicles as weatherproof housing.
NOLTING – Additional Control Systems for Air Domes
Automatic control systems for operating safety, such as hall pressure-dependent control, wind-dependent control, snow-dependent control, alarms.
NOLTING - Entrance Elements for Air Domes
Emergency doors, revolving doors – also as combination models – passenger air locks, forklift air locks, truck air locks with or without electric door drive.


Further information:
Product sheet series K
Technical Data:
Type of unit

K 140/D

K 180/D

K 250/D

K 300/D

K 350/D

Nominal heat loading capacity
kW
181
233
323
388
452
Rated heat output
kW
163
210
291
349
407
Air output main blower
m³/h
10,400
14,400
20,000
24,000
26,000
Air output stand-by engine
m³/h
10,000
12,000
14,000
16,000
20,000
External pressure
Pa
300
Motor power
kW
4.0
5.5
7.5
11.0
2 x 5.5
Length, incl. air intake grid
mm
4,300
4,700
4,700
4,700
5,900
Width, without supply air / return air connection piece
mm
1,290
1,670
1,670
1,760
2,300
Height
mm
1,150
1,380
1,380
1,380
1,840
Supply air
ø mm
800
1,000
1,000
1,000
1,200
Return air
ø mm
600
800
800
800
1,000
Waste gas
ø mm
250
300
350
350
450
Weight without burner
kg
1,400
1,800
1,800
1,900
3,200
Type of unit

K 480/D

K 580/D

Nominal heat loading capacity
kW
620
750
Rated heat output
kW
558
675
Air output main blower
m³/h
35,000
44,500
Air output stand-by engine
m³/h
25,000
30,000
External pressure
Pa
300
Motor power
kW
2 x 7.5
2 x 11.0
Length, incl. air intake grid
mm
5,900
Width, without supply air / return air connection piece
mm
2,300
Height
mm
1,840
Supply air
ø mm
1,200
Return air
ø mm
1,000
Waste gas
ø mm
450
Weight without burner
kg
3,500
3,700
Version: 2013-06.2
Back to product overview