Series KL 60-350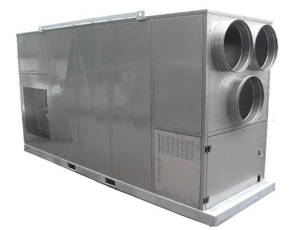 Type KL-350
Compact, strong type of unit for quick (outside) assembly
High functionality - designed and performance-optimized for an economically long-lasting use.
All KL types fulfil the high requirements of demanding renting companies of warm air heaters.
Checked by Safety Standards Authority as per DIN EN 13842.
Mobile heating chambers: unloading, setting up, ready for heating!
For outside installation in stainless steel
(if requested including burner)
Forklift guides and lifting eyes for mobile use
All built-in components are locked and easy to maintain
(switch box, fan, themostats)
With fuel oil filter and electrical connection (CEE plug)
Heating element completely made in stainless steel
Removable air inlet
Individual modification as per customer´s desire on request
Blow-out adapters at customer request

Further information:
Product sheet series KL
Technical Data:
Type of unit

KL-60

KL-200

KL-250

KL-350

Nominal heat loading capacity
kW
77
127 - 200
195 - 290
270 - 380
Rated heat output
kW
70
115 - 185
174 - 261
245 - 350
Air capacity
m³/h
4,500
7,000 - 11,200
12,200 - 18,300
16,600 - 25,100
External pressure
Pa
200
300
300
300
Electric supply
V/Hz
230V, N PE / 60 Hz
3 x 400 V, N, PE / 50 Hz
3 x 400 V, N, PE / 50 Hz
3 x 400 V, N, PE / 50 Hz
Motor power
kW
0.9
2.6
7.3
9.2
Connected load
kW
2.0
4.0
9.7
12.0
Fuse protection
A
16
32
32
32
Rated current
A
8.9
8.2
16.4
19.7
Length
mm
2,400
2,400
3,900
3,900
Width
mm
800
800
1,200
1,200
Height
mm
1,300
1,300
2,050
2,050
Flue outlet
mm
150
200
300
300
Exhaust vent
mm
500
550
600
800
Weight
kg
460
490
835
1,450
Acoustic level
dB(A)
69
69
73
75
Version 2020-05
Back to product overview