Series HLF-RM
HLF-120 RM Side view with optional accessories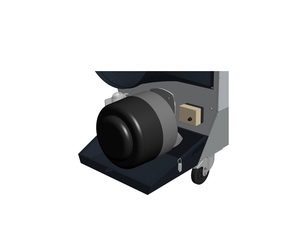 HLF-30 RM with drip tray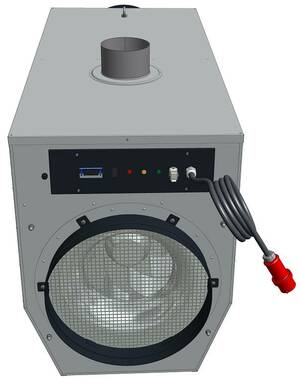 HLF-120 RM Fan view with recirculated air connection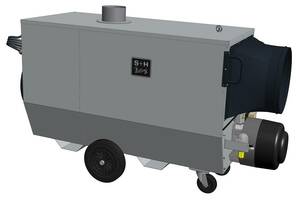 HLF-120 RM Side view, partly with optional accessories
S+H / Nolting - warm air heaters for mobile deployment. Quick available heat at the right place by directed air control.
Heating and ventilation of tents
for exhibitions or events and workshops
Heating of protective quarters
Heating of construction sites
Thawing and de-icing of construction materials
Agricultural applications
Drying of grain
Horticulture applications
S+H / Nolting mobile warm air heaters offer an approved technology, meet highest requirements of quality and guarantee a high secure supply of the most different applications.
Standard equipment is:
Oil burner
One run filter with quick extractor fan

Switch box
High-efficiency fan
for high air capacity and pressure
Heat exchanger made of steel,
extremely heat resistant
Double layer outer casing to insulate
against heat losses
Strong chassis for difficult grounds
Can be moved by crane
Varnisch possible in any RAL colour
Recirculated air condition
All conventional oil and gas burners can be used.

Illustrations partly with configuration possibilities
Possibilities of configuration:
Gas blower burner
Retrofit kit for oil preheating
Burner hood with oil drip tray
Oil drip tray and oil tank
Wet room thermostat with 10 m
cable and connection plug
Exhaust system
Hoses for hot air
Hose connection for recirculation mode
Blow out adapter
Front deflection pulley
Pockets for fork lift truck


Further information:
Product sheet HLF-RM series
Technical Data:
Type of unit

HLF 30 RM

HLF 70 RM

HLF 120 RM

HLF 150 RM

Model
with High-efficiency fan
Nominal heat loading capacity
kW
31
77
120
166
Rated heat output
kW
28
70
110
150
Air capacity
m³/h
3,000
6,000
8,500
11,000
External pressure
Pa
200
350
350
350
Motor power
kW
0.56
1.4
2.5
2.5
Electric supply
V/Hz
230 / 50
230 / 50
400 / 50
400 / 50
Length
mm
1,530
1,900
2,300
2,400
Width
mm
610
720
900
900
Height
mm
990
1,200
1,450
1,450
Air outlet
ø A
300
450
500
600
Flue gas
ø R
150
150
200
200
Weight without burner
kg
138
250
370
400
Version: 2019-10
Back to product overview