Series HSW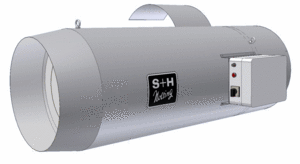 Oil fired warm air heater for stable heating as fully automatic version with flame monitoring, open combustion chamber for operation without waste gas system.
Warm air heater to heat well ventilated spaces, NOT for the use in residential premises or similar common rooms.
Intended for heating oil EL / diesel / petroleum.
The heating appliances for agriculture and trade
Electric supply via cable, 5.0 m long, with shock-proof plug
Oil connection via single-strand filter, 3/8" internal thread
Drive via room thermostat or ventilating control possible
Splash-proof switch box
Quick accessible service opening for smooth maintenance
Case made of stainless steel
Combustion chamber completely made of stainless steel for a long service life
Three-point suspension by adequate attachtment eyes

Further information:
Product sheet series HSW
Technical Data:
Type of unit

HSW 55

HSW 110

Nominal heat loading capacity
kW
49.0
100.0
Heating medium
Heating oil EL, diesel, petroleum
Air capacity
m³/h
2,500
6,900
Electric supply
V/Hz
230 / 50
Rated current
A
1.75
6.1
Length
mm
1,000
1,400
Width
mm
450
650
Height
mm
320
520
Weight
kg
30
58
Consumption
kg/h
4.2
8.2
Version: 2013-06
Back to product overview