Series NG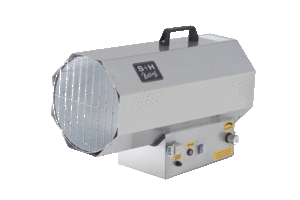 Gas fired warm air heater as fully automatic construction with electric ignition and ionization flame control. Industrial unit for heating and air-conditioning, drying unit for building sites
The heating units for the building craftsmann
The housing of this series is made of stainless steel.
The gas tube with pressure control designed for the connection to gas bottles of 5 – 33 kilos is part of the delivery extent.
The heating capacity can be chosen infinitely variable within the indicated range at the unit.
To keep building sites frost-free the units type NG-35 till NG-100 with the possibility to connect a thermostat are suitable.
All types can be used for grain drying.

Further information:
Product sheet series NG
Technical Data:
Type of unit

NG 35

NG 50

NG 75

NG 100

Nominal heat loading capacity
kW
18.0 - 35.0
25.0 - 50.0
35.0 - 70.0
50.0 - 100.0
Air capacity
m³/h
1,100
1,100
2,200
2,800
Supply pressure
bar
2.5 - 10.0
Connected load
kg/h
1.1 - 2.73
1.95 - 3.91
2.73 - 5.47
3.91 - 7.81
Current consumption
A
0.48
0.48
0.60
0.92
Length
mm
500
650
800
1,000
Width
mm
320
320
370
370
Height
mm
460
460
520
520
Weight
kg
14
16
21
26
Electric supply
V/Hz
230 / 50
Gas
Liquefied petroleum gas
Category
l 3 P
Product ID-No.
CE-0085 AQ 0232
Possibility of control
Fully automatic machine with electric ignition - Connection of room thermostat possible via plug-in socket
Version: 2018-08
Back to product overview