GHK Series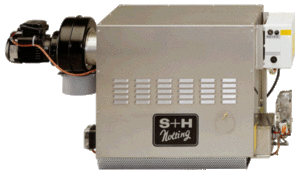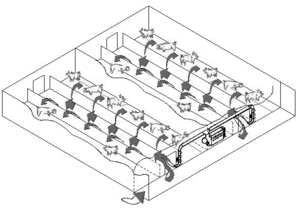 Gas-fired warm air heater for stable heating as semi automatic machine with thermostatic flame monitoring, Piezo ignition and strong air fan.
The Heating System for Swine Mast
Casing and combustion chamber made of stainless steel.
In connection with the 0 - 10 V heating output of a climate computer the units of the series B are working modulating.
Serveral compartments can be heated with one unit by using motor flaps and flap controls.
Ideal solution with door ventilation and dripping ceilings.
Delivery complete with wall consoles for external installation.
The warm air input is made by ventilating pipes.
The units type GHK-15 and GHK-25 can also be supplied as version A – adjustment only by thermostat with fixed capacity settings.

Further information:
Product sheet series GHK + GHK-EZ
Technical Data:
Type of unit

GHK 15

GHK 25

GHK 40

For liquified gas
For liquified gas only
Nominal heat loading capacity
kW
6 - 15
10 - 25
22 - 42
Gas
Liquefied petroleum gas P/B
Supply pressure
mbar
50
Connected load
kg/h
0.4 - 1.2
0.8 - 1.95
1.7 - 3.3
For natural gas
For natural gas only
Nominal heat loading capacity
kW
7.5 - 15
15 - 25
22 - 42
Gas
Natural gas E/LL
Supply pressure
mbar
20
General specifications
Air capacity
m³/h
420
800
1,400
Electric supply
V/Hz
230 / 50
Length
mm
1,020
1,200
1,400
Width
mm
300
350
350
Height
mm
520
520
550
Weight
kg
32
36
42
Air channel connection
ND 150 mm
Product ID-No.
CE 0085 / AQ 0230
Version: 2015-09
Back to product overview