Series DG-T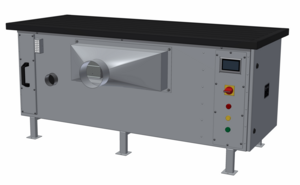 DG-65 T / FU / SAS
Reliable in use - worldwide.
Nolting pressure control systems combine the drying of the ambient air and increase in pressure with redundant fans, adsorption dryers (T) and memory-programmable control (wind-, snow-, pressure sensors).
Various system sizes are available as base configuration - can be combined and modified for very large roof areas and cushion volumes. By integration of an additional system component all pressure control blowers can be used for shading as well (movable middle layer in cushion).
The unit types DG-65 T/DG-100 T are equipped with frequency converter. Can also be supplied in stainless steel.

Further information:
Product sheet series DG-T
Technical Data:
Type of unit

DG 500 T -FU

DG 65 T -FU

DG 65 T -FU

DG 100 T -FU

DG 100 T -FU

Model
with Poti
with Poti
Logo or SAS
with Poti
Logo or SAS
Air capacity
m³/h
dryer 190m³/h blower 645m³/h
dryer 190m³/h blower 645m³/h
dryer 190m³/h blower 645m³/h
dryer 310m³/h blower 2,000m³/h
dryer 310m³/h blower 2,000m³/h
External pressure
Pa
1,100
2,000
2,000
3,000
3,000
Supply air connecting piece
mm
ND 100
ND 160
ND 160
ND 250
ND 250
Acoustic level
dB(A)
53
53
50
55
50
Air intake
with filter F5
with filter F5/7
with filter F5/7
with filter G3+F5/7
with filter G3+F5
Type of current
V/Hz
230 / 50
230 / 50
230 / 50
400 / 50
400 / 50
Length
mm
400
1,650
1,650
2,450
2,450
Width
mm
600
700
700
900
900
Height
mm
1.100
825
825
1,000
1,000
Weight
kg
120
150
150
350
350
Version: 2020-06
Back to product overview